Welcome to the Gann Historical Society & Library!
We invite you to attend the 35th Annual Conference of the Gann Historical Society & Library on June 23-24, 2023, Hilton Garden Inn, 420 West Albany Street, Broken Arrow, OK (just outside of Tulsa).  The conference begins at 9 am on Friday (23rd) and continues with exciting presentations through Saturday (24th) morning.  The Society's annual business meeting follows in the afternoon, and an informal Farewell Banquet on Saturday evening concludes the event.  We encourage all Gann descendants and collateral families with a common interest to attend in person or, virtually, by Zoom.
This is a Gathering you won't want to miss!  We have an exciting lineup which includes groundbreaking genetic genealogy discoveries of colonial Gann wives by the GHS&L Director of Research, professional genealogist Thea Walden Baker; new findings on Samuel and Elizabeth Gann's homestead in frontier Frederick Co., Virginia, by field researcher David M. Gann; and a surprise research find that answers a 100-year-old Gann mystery by William R. "Bill" Gann and Gary R. Toms.  Local guest speakers with enriching narratives of Native American, and Oklahoma history and culture are Dr. Hugh Foley, professor in the Department of Fine Arts at Rogers State University, and Mike Sheriff, a lifetime member of the Oklahoma Historical Society, who focuses on the Revolutionary War, Civil War, and U.S. Marshals in Indian Territory.
Hotel reservations with special rates are available until May 22nd for a limited number of rooms at the Hilton Garden Inn (either 2-Queen sized beds or 1-King sized bed for $119 per night). Contact the hotel at (918) 940-8444, and be sure to mention the Gann Historical Society.
---
We encourage you to join us for full benefits- click the Membership link from the menu above!  Membership is affordable and easy.  Join today!
---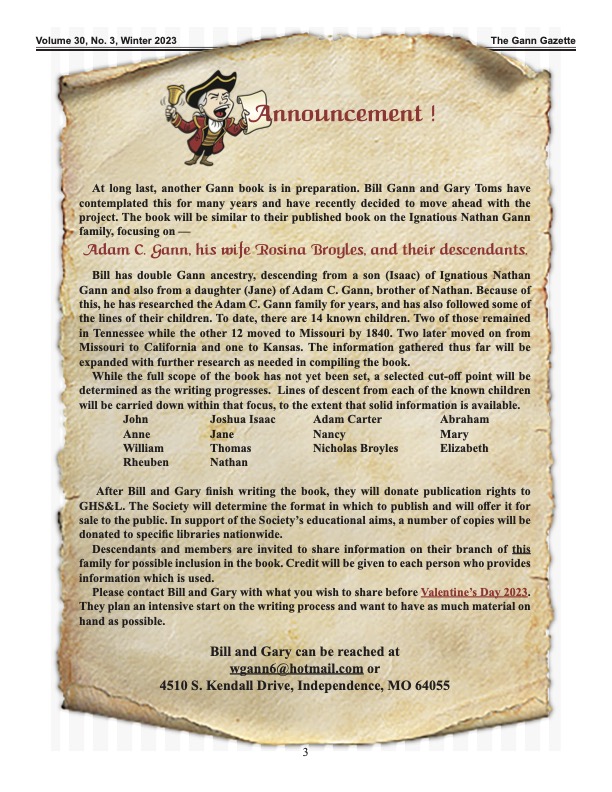 We encourage our Facebook Group participants to become full Gann Historical Society & Library members.  It's easy to join and the benefits are many!  Just click on the Membership link at the top of this page to begin.
---