Suggested Reading List
Where to find good books to read about Gann history
The Ganns: 1200AD – 1800 AD A Journey of 600 Years and 6000 Miles
by Joy Gann Brown
In depth research into the early origins of the Ganns.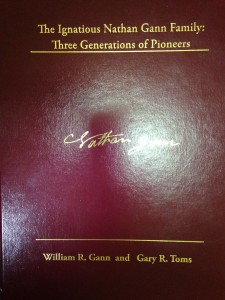 The Ignatious Nathan Gann Family: Three Generations of Pioneers
by William R Gann and Gary R Toms
The story of Ignatious Nathan Gann and his descendants.
TO PURCHASE ONE, SEND A CHECK FOR $55.00 (this includes postage) MAKE THE CHECK OR MONEY ORDER PAYABLE TO GANN HISTORICAL SOCIETY. Send it to this address; Charles Gann 7305 S. 231st E. Ave. Broken Arrow, OK 74014-2443. The book will be mailed to you at the book rate. Depending on where you live, it usually takes four – five days, after I mail it.